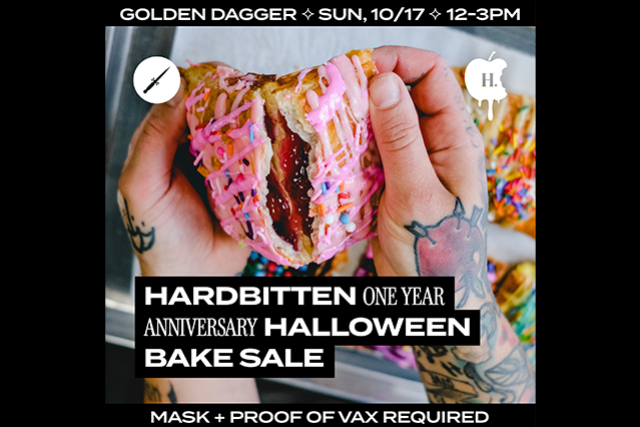 Hardbitten One Year Anniversary / Halloween Bake Sale
with Hardbitten One Year Anniversary / Halloween Bake Sale
Sun October 17, 2021 12:00 pm CDT
$0.00
HARDBITTEN ONE YEAR ANNIVERSARY + HALLOWEEN BAKE SALE

JOIN US AT GOLDEN DAGGER FOR A VERY SPECIAL POP UP WITH OUR FRIENDS AT HARDBITTEN. MENU COMING SOON...
21+ // MASK & PROOF OF VACCINATION REQUIRED TO ATTEND.
ABOUT HARDBITTEN (www.hardbittenn.com)
My name is Halee. I am a young chef who started Hardbitten in the beginning of the pandemic after being laid off from my restaurant. I began cooking for individuals who wanted a chef made, restaurant quality meal delivered straight to their homes. Since then, Hardbitten has taken off! I have launched a weekly dinner series, customizable in-home dining experiences, cooking classes, and expanded my offerings into custom cakes and full lines of baked goods and pop tarts!
I went to Johnson and Wales culinary school and graduated in 2014. In 7 years, I had worked my way up to an Executive Position. Over the years I have worked at some of Chicago's finest & Michelin starred restaurants; including Tru, Sixteen, Band of Bohemia, Naha & Brindille, Momotaro and 4c Group.
Hardbitten One Year Anniversary / Halloween Bake Sale