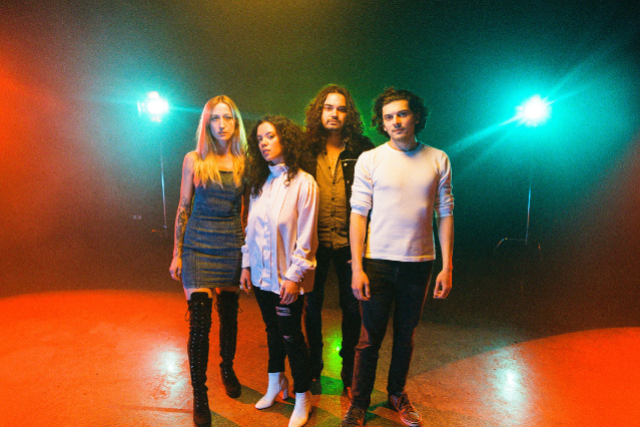 Daisychain, Strange Foliage, Flesh Panthers
with Daisychain, Strange Foliage, Flesh Panthers
Sat December 3, 2022 9:00 pm CST (Doors: 8:00 pm )
$12.00
GOLDEN DAGGER WELCOMES:
DAISYCHAIN
w/ Strange Foliage, Flesh Panthers
$12 // 21+
Tickets are required to attend. No Refunds. This event is 21 and over. Any Ticket holder unable to present valid identification indicating that they are at least 21 years of age will not be admitted to this event, and will not be eligible for a refund.
Daisychain
Similar to the dichotomous nature of their name, blues/psych rock foursome Daisychain produces a sound that is a beautiful series of contradictions: ambiguous, yet easily comprehensible; brutally honest while also soothing; rooted in classic rock and still trippy enough to please the ears of 21st century listeners. The female-fronted band from Chicago, who are also the best of friends, use music as a tool to connect and most importantly, channel feelings around the craziness of modern life. Moody, soulful, and sultry, Daisychain's classic rock 'n' roll sound is one that a wide variety will relate to because it is based around universal emotions.
"We know that a song will be successful if we're unapologetically honest, painstakingly patient, and willing to unearth very real emotions in the writing process," explains guitarist, vocalist, and founding member Sophia Williams.
Hallmarked by smoky harmonies, extensive guitar solos, and a seriously dynamic rhythm section, Daisychain's sound would fit right in on the "Almost Famous" soundtrack. In the same vein as The Who, Velvet Underground, and The Mamas & the Papas, the band, composed of bassist and vocalist Nickole Regala, guitarist and vocalist Sophia Williams, lead guitarist Frankie Sripada, and drummer Frank Kurtz, is refreshingly grounded in a world where music feels too manufactured. Daisychain's gritty Windy City attitude, sexy stage presence, and retro sound undoubtedly pulls listeners in as it is both familiar and innovative. After the success of their 2022 EP release "Difference Shades," Daisychain is ready to make a splash across America and beyond.
The band, who is proud to be a part of the ride-or-die Chicago music scene, came about after meeting at a local open mic. After playing some shows around the Midwest, Daisychain decided to tour beyond their backyard after realizing their musical tastes and professional intentions aligned. Whether subconsciously or consciously, they were on the same page as far as style, wanting to make a positive impact on the world, and process. It was a kismet meeting of like minded folks. While the band has naturally evolved since their first show, the same nervous excitement that first propelled them forward is still a force today.
Daisychain is proud to have changed – for the better— with every project by putting the emphasis on their collective relationship rather than individual selves. All four band members have classical backgrounds, which is where their discipline and structured songwriting process stems from. Their classical training is also why they are aware that a musical career takes time, effort, and lots of practice.
While all members of Daisychain are fans of a wide variety of music, from heavy metal to hip hop, classic rock serves as the common denominator. In their eyes, the evergreen sound appeals to most demographics and is nimble enough to allow their sound to continuously morph. Classic rock is equally the perfect palate for their intimate, nuanced songwriting process.

The band enjoys sitting together in a room, sharing what is really going on, and understanding each other's individual stories through writing. "The coolest thing is to connect on a deeper level through music and also see what songs survive the editing process and make the cut," says Sophia.
When getting together to write, Daisychain starts with a bigger picture concept and dives into the nitty gritty to connect it to their own lives.
Songwriting is a freeing, easy, and cathartic process that has made them even closer as a band. It is about being as honest as possible and open to everyone's ideas in order to make a candid, cohesive product. "It's a back-and-forth process that takes everyone's opinions into account and also allows us to put 100-percent of ourselves into it," says Sophia. Similar to Daisychain's sound-defining harmonies, which come from Nickole and Sophia's background as woodwind instrumentalists, their songwriting is just as dialed in. By creating for themselves, as a group, they have created a sound that is grounded, relatable, and real.
With an intense tour schedule ahead of them, Daisychain is excited to bring their music to audiences around the states. As avid concert-goers themselves their goal is to deliver a performance that connects one song to the next. Never will you hear nonsensical stage banter in Daisychain's set as their live performance is as deliberate as their songwriting process. They are all about delivering a seamless progression of music in which one song is a bridge to the next. Their performance is a complete experience. "We want to give audiences the types of shows that we like to attend, which are fun, fast-paced, and energized because the band is completely into it," says Sophia. That type of set is easy for Daisychain to do because the band loves little more than performing. To be able to play music for a living, satisfy their creative impulses, and channel bottled up emotions is a dream.
Strange Foliage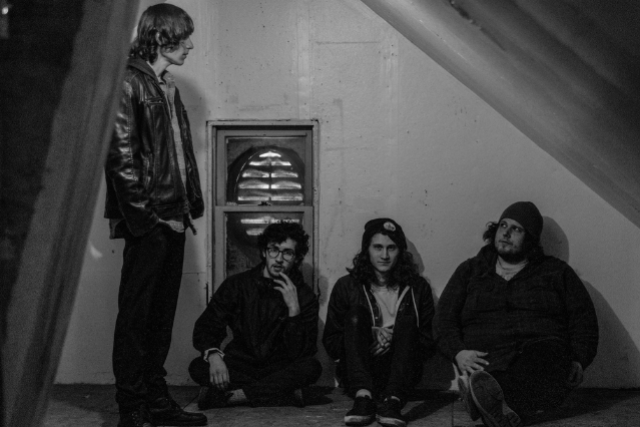 Strange Foliage make high fuzz headbanging garage rock that's palpable. After nearly three years of silence, the band returns to the stage in 2022 with a fresh set focus on fuzzed out guitars, thumping bass lines, psyched-out drum fills, and high energy driving lead vocals.
Strange Foliage is the brainchild of Joey Cantacessi (Guitar & Vocals), beginning in the spring of 2017. After premiering the first singles,"Take Care" & "See Is Red", via Chicago radio station 101.1WKQX a live band was put together consisting of Stuart MacFadyen (Bass), Andrew "Goose" Giese (Drums), & Justin Sanetra (Guitar). Sharing the stage with Meatbodies (Los Angeles) for their first show in June 2017 planted the band into fruition. Described as "pure Chicago rock" by Tina Mead(Midwest Action) & "high fuzz headbanging garage rock" by Jennifer Machuca(Music, Why Not!) the band's debut record "Settle" was released in April 2018 by Press Pot Records. Performing locally and touring nationally the band has shared the stage with acts like Bass Drum Of Death(New York), Soccer Mommy(Nashville), Zeta(Venezuela), Surfbort (Brooklyn), Dude York(Seattle), Casper Skulls(Toronto), Stuyedeyed(New York), Zuli(New York), & many more. Strange Foliage released two singles in 2019, Network and Big Mouth, as well as their debut official music video for their track Big Mouth. The band plans to release new music showcasing their fresh sound this year.
Flesh Panthers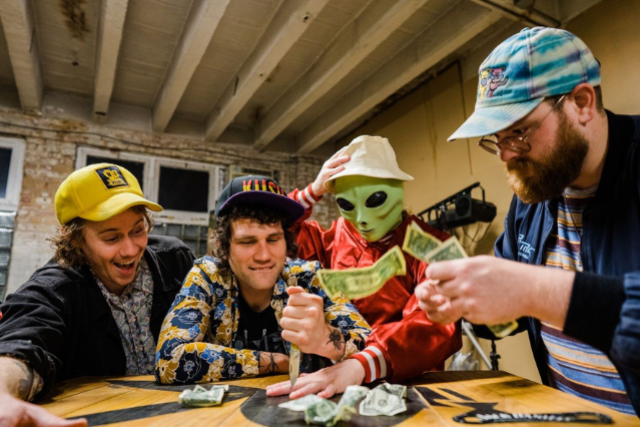 Flesh Panthers is a rock band from Chicago. We don't play synth pop or any second rate music shit.