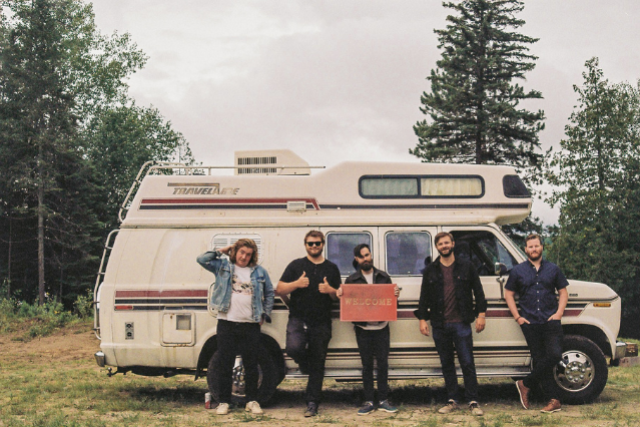 NEWSKI, Long Range Hustle
with NEWSKI, Long Range Hustle
Wed April 12, 2023 8:00 pm CDT (Doors: 7:30 pm )
$15.00
GOLDEN DAGGER WELCOMES:
NEWSKI
w/ Long Range Hustle
$15 // 21+
Tickets are required to attend. No Refunds. This event is 21 and over. Any Ticket holder unable to present valid identification indicating that they are at least 21 years of age will not be admitted to this event, and will not be eligible for a refund.
NEWSKI
A revival of 90's alternative, durable midwest rock trio NEWSKI enlists a friend/musical influence on every track for their new LP Friend Rock. From veterans like Matthew Caws (Nada Surf), Brian Vander Ark (the Verve Pipe), Ryan Miller (Guster), Miles Nielsen, and Scott Terry (Red Wanting Blue) to overseas acts like H Burns (France), The Secret Beach (Canada), and The Shabs (South Africa), NEWSKI compiles an internationally collaborative album from his own tiny house in Milwaukee, Wisconsin.
The three-piece will hit American, European and South African highways for a 100 date touring year behind the new LP. Featuring Steve "Mr Bicep" Vorass on drums, Sean "Tubs" Anderson on 4-string & Brett Newski on guitars and vocals.
NEWSKI has played with Pixies, Violent Femmes, Courtney Barnett, Gin Blossoms, Manchester Orchestra, Better than Ezra, Barenaked Ladies, & Nada Surf and has been featured in Rolling Stone, NPR, American Songwriter, SiriusXM, Boston Globe, NBC, Billboard and SPIN.
"You will leave their show thinking 'wow this is really not my thing', or 'THIS IS MY NEW FAVORITE BAND." -Make Mains
"I work at a venue, I've seen a million bands, I hate most of them, and I'm a grumpy fu#*. NEWSKI's live show is so great and well-dialed. He is great at what he does." -Door Guy, Casbah, San Diego
"Showcases the unapologetically frank but not overly aggressive nature of 90s alt. rock perfectly." -American Songwriter
"I like the sound and the way he is forcing the world to contend with him." -Brian Ritchie, Violent Femmes
Long Range Hustle