GATHER: Macie Stewart & Ishmael Ali
with Macie Stewart, Ishmael Ali
Sun February 19, 2023 2:00 pm CST (Doors: 1:30 pm )
$10.00
GOLDEN DAGGER WELCOMES:
GATHER
A series focusing on bringing together different music communities in Chicago, and creating well rounded listening experiences for the audience
Featuring: MACIE STEWART & ISHMAEL ALI
$10 // 21+
Tickets are required to attend. No Refunds. This event is 21 and over. Any Ticket holder unable to present valid identification indicating that they are at least 21 years of age will not be admitted to this event, and will not be eligible for a refund.
Macie Stewart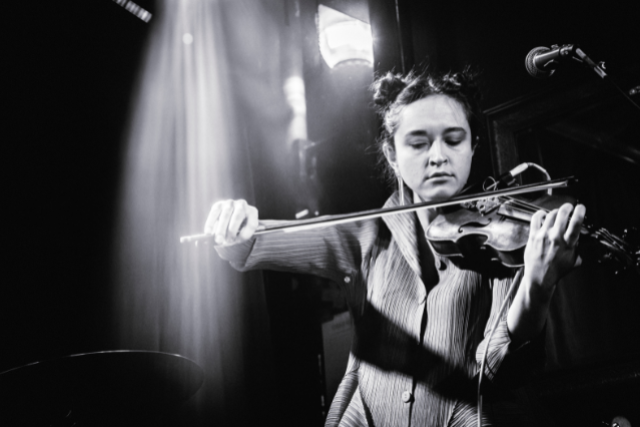 Macie Stewart is a multi-instrumentalist, composer/arranger, songwriter, and improviser based in Chicago, IL who Downbeat Magazine calls "a master of equilibrium." Stewart began her musical career at the age of 3. Learning piano while learning to talk, Macie discovered two foundational modes of communication at once. As the child of a career musician (pianist Sami Scot), Stewart was encouraged to explore the piano and violin, and became proficient on both instruments. After helping to found the Chicago bands Kids These Days and Marrow, Stewart broadened their interests and spent time in the avant-garde jazz scene, performing regularly at Chicago institutions Constellation and The Hungry Brain. It was in that scene Stewart distinguished herself as a go-to collaborator, co-founding the band OHMME (with Sima Cunningham) and performing and improvising with Ken Vandermark's Marker ensemble, the improvised act The Few (with guitar player Steve Marquette and bassist Charlie Kirchen) and the violin/cello duo Macie Stewart & Lia Kohl. Stewart has toured as a multi-instrumentalist with bands such as Japanese Breakfast, The Weather Station, Chance The Rapper, and Tweedy. Stewart has also spent years working as a string arranger, drawing on her varied background in classical, jazz, and Irish folk music to create unique arrangements for artists such as the band Whitney, SZA, V.V. Lightbody, Knox Fortune, and many others.
On September 24, 2021 Stewart released her debut solo record "Mouth Full of Glass" on Orindal Records and is re-releasing the record on November 11, 2022 featuring two new bonus songs with UK label Full Time Hobby Records.
Macie's main collaboration is the band OHMME with Sima Cunningham. The band began in 2014, and since then they have released 3 full records, many singles, and a collaborative dance film entitled "Half of Us" with Hubbard Street Dance in 2021. Their most recent record, "Fantasize Your Ghost", came out in June of 2020 on Joyful Noise Recordings. Ohmme premiered a work for 50 piece orchestra and dance with the Pacific Northwest Ballet titled "Before I Was" in Spring of 2022 alongside choreographer Robyn Mineko Williams.
Ishmael Ali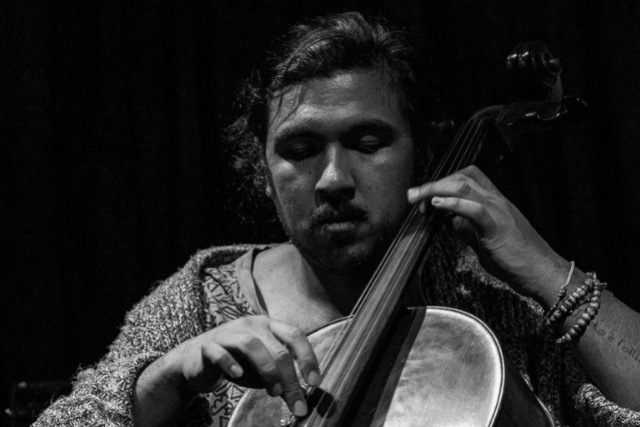 Ishmael Ali is a first generation Filipino-Arab-American cellist, guitarist, improviser, composer, and electronic artist currently residing in Chicago. His work centers on exploring sound through improvisation, experimentation, collaboration, as well as a wide array of idiomatic approaches in an ever-changing, always-growing list of projects with diverse focuses and influences.Though varying drastically from group to group, a common thread in his work is the juxtaposition of seemingly disparate elements to create something new: both foreign and familiar.
Frequent collaborators include Bill Harris, Jeff Kimmel, Eli Namay, Je'raf, Fred Jackson, Avreeayl Ra, Adam Shead, Wills McKenna, Jakob Heinemann, Timothée Quost, Aaron Quinn, and Deric Dickens. In addition, Ishmael has played or recorded with Jim Baker, Ed Wilkerson, Carol Genetti, Peter Maunu, Josh Berman, Andrew Scott Young, Johanna Brock, Abhilasha Chebolu, David Leon, Raf Vertessen, and many others.
In addition to performing, Mr. Ali is a co-founder and audio engineer at the recording space Marmalade in Chicago and was the founder and director of the now inoperative music and art space, Orotund Music. He continues to work as an organizer and promoter with varying degrees of regularity.