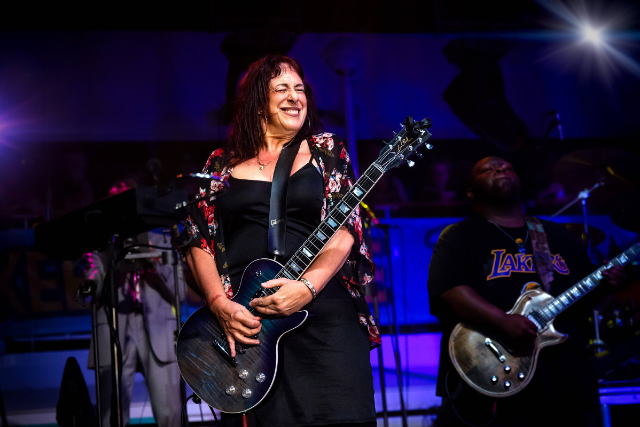 Joanna Connor Band - FREE MATINEE SHOW!
with Joanna Connor Band
Sun June 11, 2023 2:30 pm CDT (Doors: 1:30 pm )
$0.00
GOLDEN DAGGER PRESENTS A FREE MATINEE SHOW WITH:
JOANNA CONNOR BAND
This event is 21 and over. Any Ticket holder unable to present valid identification indicating that they are at least 21 years of age will not be admitted to this event, and will not be eligible for a refund.
Joanna Connor Band
"A Masterpiece of Blues Rock."– Music News
"Joanna Connor is at the top of her game."– Rock and Blues Muse
"This recording ranks as Joanna Connor's best to date, and I believe it has something to do with her producer, Joe Bonamassa; he has brought out the best in her."– 10/10 Powerplay Magazine
"Her best album to date. It oozes style. Raw, pure and traditional blues." – Blues Matters Magazine
"Musically, 4801 South Indiana Avenue is Connor's most focused outing. It arguably showcases her world-class talent better than the others, simply because, unfettered from the practical concerns of a session, she can — and does — pursue this music for its own sake. With Bonamassa and Smith assisting, Connor's performance offers her iconic playing, delivered with joyful abandon and plenty of attitude." – AllMusic
"4801 South Indiana Avenue is a career-defining record for Joanna Connor. It's an album that'll be remembered for decades to come and everyone who lives for true, from-the-guts blues needs to hear it. If you only buy one record this year, this is the one you want." – Rock and Blues Muse
"Joanna Connor has truly hit the bullseye here. Surrounding herself with world class musicians, she has created a masterpiece which takes the Blues at grassroots level and redefines it into an emotional, powerful monster of an album that confirms Connor's place in the halls of the Blues elite. This is destined to be a future classic." –Metal Planet
"The road has been long, but Joanna Connor has proven that her hard work and talent will always be appreciated, and her name will be on the lips of countless more people from this moment onwards.
Simply brilliant." – Metal Talk
"Music like this makes you realize just how vital Blues is and how it sits at the core of so much great music made in the last 60 years… terrific album." – Music News
– Winner Best Blues Band and Best Individual Blues Musician for the 2022 Best of Chicago: Music & Nightlife poll
– Featured on the soundtrack for the Ben Affleck movie Deep Water.
"Music chose me. I vividly recall trying to sing like Louis Armstrong's 'Hello Dolly' in our Brooklyn apartment. It came on the radio often. I knew I was small, but when I researched what year this version was on the charts, I was floored with the realization that I was two years old!"
And so, Joanna Connor's musical odyssey began. The soundtrack of her childhood in her adopted hometown of Worcester, Massachusetts was diverse and bounteous. The Blues was part of the lexicon. Joanna's favorite record as a child was Taj Mahal's "Take A Giant Step/ The Old Folks At Home".
Seeing Buddy Guy perform at a local university at the age of 10 left a paramount impression. Playing saxophone, guitar and singing through her school years were her passions, and eventually led to her performing professionally at age 17.
But her hunger to become a guitarist first and foremost and her desire to immerse herself in the Blues, propelled her to move to Chicago in 1984.
"It was my university. I went out every night of the week. Within a month I had my first gig with the legendary Johnny Littlejohn. A few weeks later I became a part of Dion Payton and the 43rd St Bluesband. We were the house band at the Checkerboard Lounge, on the south side of Chicago, then owned by Buddy Guy. That's when my schooling kicked into overdrive. I played with Buddy, Junior Wells, Otis Rush, Sammy Lawhorn, Pinetop Perkins, Hubert Sumlin, Magic Slim, Son Seals, Lonnie Brooks, Koko Taylor, just to name a few. I was blessed."
Joanna went on to form her own band in 1988 with weekly appearances at the Kingston Mines in Chicago. Her formidable guitar playing, and distinctive soul-churning vocal ability caught the attention of Blind Pig Records, who released her debut album "Believe It" in 1990.
National and International accolades in the press and radio media resulted into a decade of world tours, a dozen recordings on Ruf Records, MC Records and others, a documentary on Germany's WDR Television, and a multitude of TV appearances and radio features.
Joanna and band shared stages with Blues, Rock and Jazz greats, including Luther Allison, BB King, Screaming Jay Hawkins, Robben Ford, Danny Gatton, Robert Cray, Jimmy Page, ZZ Top, Joe Cocker, Etta James, and others.
Joanna signed endorsement deals with Gibson Guitars, Victoria Amps and Orange Amps.
In 2005, she took a hiatus from touring to spend time at home raising her young daughter. Two 15 plus year residencies at the House of Blues and The Kingston Mines, honed Joanna's considerable guitar and vocal chops even further.
While working continuously in Chicago, a handful of videos of her incendiary slide guitar solos went viral creating quite a sensation and garnering attention from media and established musicians alike. Joe Bonamassa sought her out and offered to produce the kind of record he felt Joanna had always had in her and should deliver to the world. 4801 South Indiana is this record, a blues record that delivers all the raw emotion, passion, and fire that made the Blues so compelling from its inception. Joe Bonamassa did not merely produce, arrange, and play on the record, he enabled and inspired Joanna to pull from deep within her all of what her life in music had given her. While steeped in tradition, the recording is no museum piece, it is alive and it is kicking, once-in-a-lifetime Blues