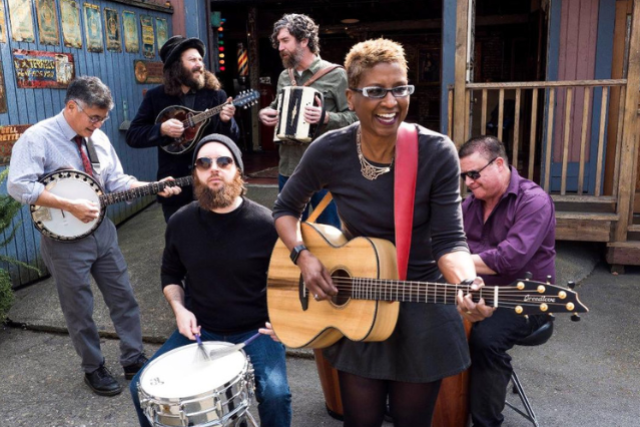 Paula Boggs Band, Sue Fink
with Paula Boggs Band, Sue Fink
Fri April 14, 2023 8:30 pm CDT (Doors: 7:30 pm )
$12.00
GOLDEN DAGGER WELCOMES:
PAULA BOGGS BAND
w/ Sue Fink
$12 // 21+
Tickets are required to attend. No Refunds. This event is 21 and over. Any Ticket holder unable to present valid identification indicating that they are at least 21 years of age will not be admitted to this event, and will not be eligible for a refund.
Paula Boggs Band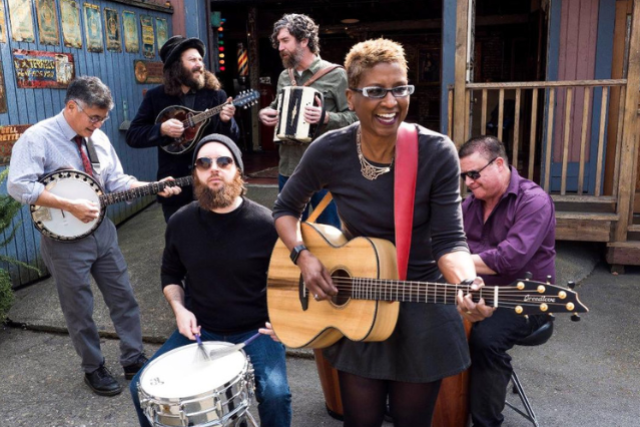 Paula Boggs Band blends jazz and Americana. Front woman guitarist/songwriter Paula Boggs, percussionist Tor Dietrichson and banjo player/guitarist Mark Chinen are founding members. Their sound is "Seattle-Brewed Soulgrass" the band has toured across America and Canada.
The band has released a steady stream of music over the past decade-plus. Debut album "A Buddha State of Mind" came in 2010 and "Carnival of Miracles," followed in 2015. Four years ago Paula Boggs Band released the EP "Live at Empty Sea, Songs of Protest & Hope" and 3rd album Elixir, The Soulgrass Sessions.
After Elixir, the band added multi-instrumentalists Paul Moore and Darren Lucas, bassist Alex Dyring and drummer Jacob Evans. Moore, Dyring and Evans are music conservatory trained. Dyring and Evans are second generation professional musicians. "Mistletoe & Shiny Guitars," the band's first holiday song came in 2018. EP "Electrokitty Sessions" and single "America 2020," produced by multi-Grammy nominated Tucker Martine followed in 2020.
Paula Boggs Band is sponsored by Deering Banjos, Breedlove Guitars and Radial Engineering. Their 4th studio album, "Janus", also produced/engineered by Martine and featuring Dom Flemons, was released in 2022.
"Boggs is like the Dylan, the Peter, Paul, and Mary, the Joan Baez of this era."
-Phil King, AudioFuzz.com
"Paula Boggs Band sets themselves apart distinctly by Boggs' stunning vocals…this Seattle band sounds the part of a bygone era and part refreshingly modern, an exciting contributor to the Pacific Northwest's diverse music scene."
-Glide Magazine
"Every now and then I'm introduced to an artist whose music and style are so unique as to make a lasting impression. What a pleasant surprise to hear a truly different sound in the work of The Paula Boggs Band!...No labels, no niches, no fitting into standard spaces. Therein lies the creative genius of The Paula Boggs Band. Outstanding work!"
— Matthew Gillian, Retired Radio Broadcaster/Personality, Former Host of Opry Star Spotlight, 650AM WSM, Nashville, TN
Sue Fink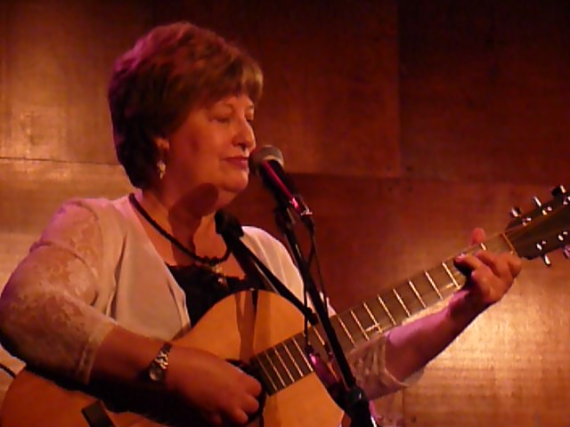 Chicago-based singer-songwriter Sue Fink has been enchanting audiences since 2001 with her whimsical perspective on the world. She is a witty social commentator and perceptive observer of the human condition. Her genre is folk with a hint of jazz, a large dollop of humor, and a drop of sadness for good measure: think Christine Lavin, with a dash of Rickie Lee Jones, Melanie, and Nellie McKay. In a term coined by CatBird band-mate Jane Godfrey, she calls her style "urban campfire cabaret."
Sue's original songs have received national and local airplay on numerous folk shows, including "The Midnight Special" (Rich Warren, WFMT) and "Folk Festival" (Lilli Kuzma, WDCB). She performs mostly in the Midwest, and has also toured both coasts.